With a box of books that we received from the charity Biblionef for the pre-schoolers and a lot of equipment, tools and toys, I travelled to Uganda together with a carpenter friend and a girlfriend.
With my charity Stichting Lot I support a project of Mothers Heart Uganda: the Golden Hill Academy. This is a primary school that four years ago still had enough space in the shade of a tree, and now has ten classrooms for over three hundred pupils.
Our destination was Mutoto, a village in eastern Uganda that can only be reached by a bumpy road. It is located near the city of Mbale, a busy and dusty provincial town. Stichting Lot had received money from a number of funds to furnish three new pre-school classrooms with tables and chairs. I wanted to go there myself to arrange the classrooms in a playful manner with house, construction and reading corners.
Fortunately, in Mbale we could get MDF boards in different colours. The carpenter, together with a few villagers, made play houses, a construction corner and a beautiful cupboard where the books from Biblionef could be attractively displayed. The children can easily reach in to pick up a book. And they do!
In Uganda, they are not so used to letting the toddlers play; there it is still mainly about learning by repetition and imitation. But when I gave the teachers a workshop on how to play with pre-schoolers and explained how important play is for their development, they soon became enthusiastic. And when we started working on the three classes, they became even more enthusiastic. After two weeks our work was done and we could hand over the classrooms to the teachers and the pupils.
I had previously brought books from Biblionef for the older pupils. These books are in the room of the director, so that the children can borrow them and look at them. There is no place in the classrooms to keep the books in an attractive and accessible way. But now for the pre-schoolers there is. Hopefully, in the future, this will be possible in the higher classes as well, so that the children can have easy access to the books.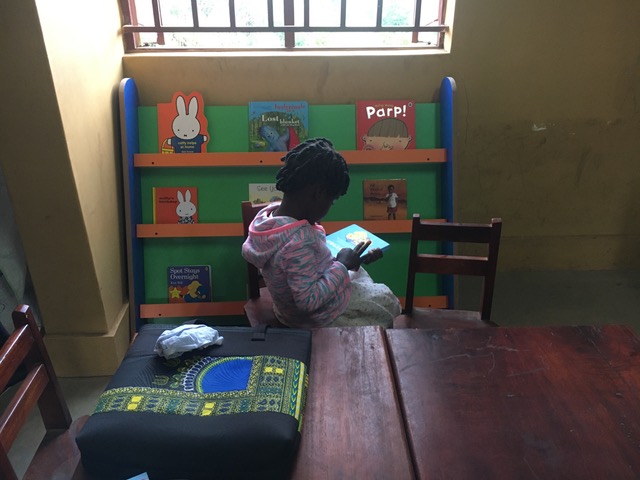 Thank you for the books, Biblionef!
Written by: Charlotte Borggreve (Stichting Lot)